Some of What Jamaicans Say -

Stories and Other Jamaican Info
---
---
---
Wanna share something Jamaican with us? Share Your Submission HERE!!
CARE to SHARE???... Share this awesome content with your friends now...
---
WELCOME to the "JAMAICANS SAY" Family FORUM!
Click Here To Enter Your Submission
Jamaicans say a lot of things all the times, however we hardly hear most of them. We as Jamaicans always have something interesting to share, whether: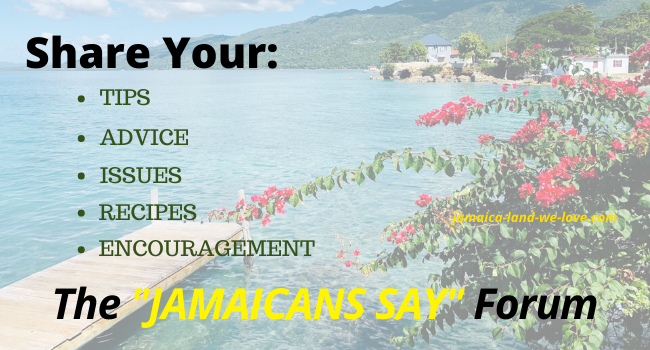 a story
an experience
a favourite recipe
a review of your visit to Jamaica
a burning issue
any suggestions or recommendations
or just simply want to clear your mind
etc
You name it. We would love to hear about it.

What Is "Jamaicans Say?"
It's a NEW FORUM that I want to officially open for you to get your feedback about anything relating to Jamaica or my website.
It takes a while to produce content for the site and as such you may not see a topic that you know about here and YOU, yes you, can make that contribution to the site and it will be added to our database with YOUR name in the by-line as the contributor.
You are already on this page, so I know you have some interest in things Jamaica. So you would have an opinion, idea, question, concern, comment or just a simple suggestion about something or someone Jamaican.

Share your stories and other Jamaican knowledge or concerns and comments with us.

We are a community that loves hearing from our followers and subscribers. You can share anything relating to Jamaica here and we will publish it on our site free of cost, then you can share with your family and friends that you have a published page on the Jamaica-Land-We-Love.com website with your name as the author of the article. :-)

Note too that YOUR submission will be seen by over 130,000 other Jamaican enthusiast visiting this site EVERY MONTH!!
All we ask is that you keep your feedback and submissions respectful and clean, ok?

What Can You Write About?
Any topic is welcomed:
Sports
Politics
Education
Business
Food and Recipes
Entertainment
Travel Reviews
etc
So please feel free and don't hesitate to just let your knowledge and suggestions and comments flow. After all, Jamaicans Say a lot of thing all the time, why not let others see your thoughts? 

It will also assist the community looking for information about Jamaica that may have not reached the site as yet and you could be that one person that assists with getting that information out there. :-)

Jamaicans Say Contribution Forum
Let us know where in the world you are! (We are all Jamaicans)

Share anything Jamaican related with us!

Are there any issues or concerns you think should be highlighted on this site?
Do you have a recipes that you would love to share with us?
Have any information or sports, entertainment, politics that you want to share with us?

Please feel free to share it here. Your submission might just be the motivation or information someone else needs...

---
CARE to SHARE???... Share this awesome content with your friends now...
---
If you found this page useful, please feel free to subscribe to my weekly newsletter, The Jamaica Land We Love Digest. 
It gives you information every week about the new information that I have added to the site, including any new developments and great Jamaican stories from Jamaicans and lovers of Jamaica worldwide!


---

Other Great Articles You Might Have Missed
Visitors' Favorite Pages