Jamaican Porridge Recipes

Try One A Day!
---
---
---
Wanna share something Jamaican with us? Share Your Submission HERE!!
CARE to SHARE???... Share this awesome content with your friends now...
---
These Jamaican porridge recipes are easy to try and the end result is superbly delicious.
Most Jamaicans are usually used to preparing the usual Jamaican cornmeal porridge, but there are more porridges found in our culinary catalogue and I am about to reveal some of the more popular ones below.
Jamaicans make porridges from almost anything. We use cornmeal, green bananas, green plantains, rice, oats (oatmeal), samola, cream of wheat, and any other ingredient we feel fit to experiment with.
Porridges we generally made to be served as a breakfast menu item, however, because of the texture of some of these porridges, they are also consumed at dinner time as a substitute for a heavier meal.
All the porridges that are featured on this site are sweetened to taste using the usual sweeteners and flavour blasters. Substitutes are suggested for persons who are lactose intolerant as well as for those persons of Rastafarian belief.
Therefore, you should not have any issues as it relates to preparing your Jamaican porridges to suit your taste because the end result is really what you make it.
Now without any further delays...

...Here are the most famous and most prepared Jamaican porridges to date, in no particular order:

Popular Porridge Recipes In Jamaica

If there are any other Jamaican porridges out there that is not mentioned on this page, then let me know about it.

But you can go ahead and try ANY of these easy to make porridge recipes and see how they turn out.

Your breakfast menu will never look the same again after you have these has additions to your already creative list, ;-)

Just a note:

Did you know that you can add butter and/or raisins to any of these Jamaican porridge recipes to enhance their flavor?

Did you know that cinnamon is what is known as a "false sweetener?" That's right, cinnamon will actually trick your taste buds into thinking that some thing is sweeter than it actually is.

So you can sometimes increase the cinnamon and decrease the sugar in any of your Jamaican porridges. This will give you a nice light flavor instead of that heavy sugary taste.

Have fun with these Jamaican porridge recipes and ENJOY!!


Enjoy these great tasting recipes and if you need more recipes in one place be sure to sign up to my newsletter below and get a FREE copy of my e-book...
"Jamaican Dishes Made Easy"

FREE E-Book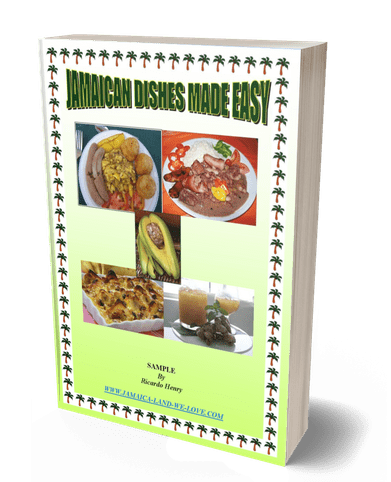 Get a Copy of My FREE E-Book when you sign up for the
JAMAICA LAND WE LOVE Newsletter ...

SUBCRIBE HERE for latest updates
Top of Jamaican Porridge Recipes
---
CARE to SHARE???... Share this awesome content with your friends now...
---
If you found this page useful, please feel free to subscribe to my weekly newsletter, The Jamaica Land We Love Digest. 
It gives you information every week about the new information that I have added to the site, including any new developments and great Jamaican stories from Jamaicans and lovers of Jamaica worldwide!


---

Other Great Articles You Might Have Missed
Visitors' Favorite Pages