Jamaican Recipes
Fun to Try, Easy to Make!
---
---
---
Wanna share something Jamaican with us? Share Your Submission HERE!!
CARE to SHARE???... Share this awesome content with your friends now...
---
Jamaican recipes are always easy to try and fun to make.
There are quite a number of different recipes to try from so you can never get bored cooking Jamaican style.

I want to share with you recipes from a number of categories that you can use to make a single meal, or a complete meal depending on what your aim is.

We have recipes for your appetizers, entrees, desserts, drinks and many more. We even have simple bakes and mixes that can be done in as little as 10 minutes from preparation to completion.

Here is a breakdown of some of the recipes that you can try from some of the categories outlined.

Other Jamaican Dishes and Recipes
The above list of Jamaican recipes is by no means ALL that is offered from this country of spice and food. There are MANY more delicious Jamaican foods that you can cook using Jamaican cooking methods and techniques that were originated from our first inhabitants to now.
So we are a mixture of cultures creating a dynamic array of great tasting foods for every one's palette.

As our Motto states: OUT OF MANY ONE PEOPLE!!

Try some of these recipes for yourselves and you can prepare for MUCH MORE to come at a later date.


FREE E-Book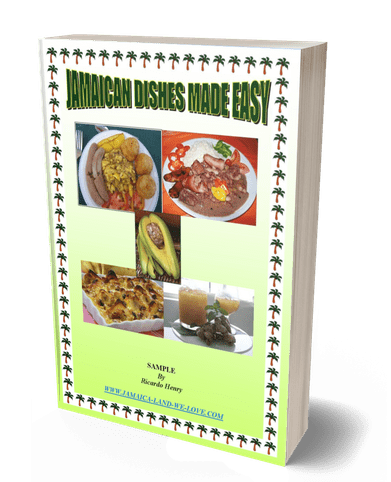 Get a Copy of My FREE E-Book when you sign up for the
JAMAICA LAND WE LOVE Newsletter ...

---
CARE to SHARE???... Share this awesome content with your friends now...
---
If you found this page useful, please feel free to subscribe to my weekly newsletter, The Jamaica Land We Love Digest. 
It gives you information every week about the new information that I have added to the site, including any new developments and great Jamaican stories from Jamaicans and lovers of Jamaica worldwide!


---

Other Great Articles You Might Have Missed
Visitors' Favorite Pages