Tasty Jamaican Bulla Recipe

With Ginger
---
---
---
Wanna share something Jamaican with us? Share Your Submission HERE!!
CARE to SHARE???... Share this awesome content with your friends now...
---
This Jamaican Bulla Recipe is easy to follow and the end result is flavourful, fresh and tasty.
Bulla can be eaten with anything of your choice and liking but to tell you the truth, the best thing to eat bulla with is PEAR or Avocado if you wish.

Bulla and Pear (Avocado) is an old time favorite, especially in the Jamaican countryside. This traditional style of eating bulla is adopted by many generations of Jamaicans as well as other internationals.

However, to date, more and more people have been eating bulla with a number of other things. These include fried fish (sprat, snapper, parrot), butter (margarine), peanut butter, cheese, etc. Anything you can think of that can accompany bulla, we Jamaicans have tried it already!

This recipe is a Jamaican Ginger Bulla Recipe. However, if you would just like to have a regular bulla recipe, just omit the ginger from the list of ingredients and you will have just a normal flavoured Jamaican bulla.
It will have more of a vanilla flavoured taste than anything else. But, like any other recipe, this too can be altered to suit your preferences.

Let us get started with the process!!

Jamaican Bulla Recipe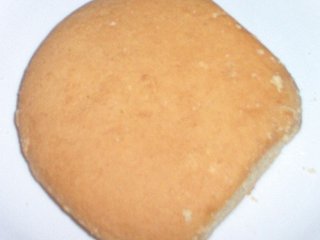 INGREDIENTS
2 3/4   cups brown sugar

1/2      tablespoon salt

2        cups of water

1        cup margarine

2       tablespoon ginger

2       tablespoon vanilla

7 1/2   cups flour

3        tablespoon baking powder

1/2     tablespoon baking soda

1        teaspoon nutmeg

Flour for rolling out bulla

METHOD
1. Dissolve sugar and salt in water,add ginger,margarine and vanilla.

2. Sift together all dry ingredients and combine with liquid gradually.

3. Dough must be clammy and heavy. Place the dough on floured board and dust with flour until dough is manageable.

4. Roll out to a thickness of about 0.75cm and cut into slices.

5. Bake in a 375 degree oven until done for about 20-25 minutes.
Back To Jamaican Breads and Cakes
---
CARE to SHARE???... Share this awesome content with your friends now...
---
If you found this page useful, please feel free to subscribe to my weekly newsletter, The Jamaica Land We Love Digest. 
It gives you information every week about the new information that I have added to the site, including any new developments and great Jamaican stories from Jamaicans and lovers of Jamaica worldwide!


---

Other Great Articles You Might Have Missed
Visitors' Favorite Pages