St Andrew Jamaica

Jamaica's Most Populated Parish
---
---
---
Wanna share something Jamaican with us? Share Your Submission HERE!!
CARE to SHARE???... Share this awesome content with your friends now...
---
St Andrew Jamaica was one of the first parishes to be established by Law in 1867.
Prior to that it was known at the time as Liguanea.

"Liguanea" is one of the few surviving Arawak words, presumably stemming from the word iguana, meaning "lizard".

St. Andrew as an area of approximately 455 km2 or 176 square miles and is located in the County of Surrey.

Its population as of the 2011 census is 573,369, of which there are 274,320 Males and 299,049 Females. Based on these numbers, it is the MOST populated parish in Jamaica.

The parish stretches from Cross Roads to Rockfort in the East and reaches up into the Blue Mountains. It shares borders with St. Thomas, Portland, St. Mary and St. Catherine.

In 1923, Kingston and St. Andrew were amalgamated to create the Corporate Area of Kingston and St. Andrew. The parish council was then named the Kingston and St. Andrew Corporation (KSAC). Currently, the Mayor of Kingston and St. Andrew is Angela Brown Burke.


The capital of St. Andrew Jamaica is Half way Tree (HWT), and it is served by the Kingston 10 Post Office.
There are a number of churches in the HWT area such as Holy Cross Catholic Church and Webster Memorial. There are also a number of prominent schools in the Half Way Tree area such as Holy Childhood High for Girls and St. Andrew High School for girls.

St Andrew Jamaica Main Centers
Constant Spring - It takes its name from a sugar plantation and the spring which once gushed from nearby hills, through the lush green golf course, down on to the Liguanea Plains. Today it is another of the main centres of commerce in the Corporate Area.

Liguanea - This was the original name of the Parish of St Andrew Jamaica, However, it now only refers to the small commercial centre mid-way between Half-Way Tree and Papine.

Places of Interest in St Andrew Jamaica

King's House

Located at Hope Road in St. Andrew, King's House is the official residence of Jamaica's Head of State, the Governor-General. King's House became the residence of the British governor when the seat of government was moved from Spanish Town to Kingston in 1872 and remained so until Independence in 1962. It was wrecked in the earthquake of 1907 and rebuilt in 1909 from designs by Sir Charles Nicholson.

Jamaica House

Built shortly after Independence as the official residence of the Prime Minister, Jamaica House is now used as the Prime Minister's offices. It is located on Hope Road next to King's House.



Vale Royal

Known formerly as Prospect Pen, and was constructed either in the late seventeenth century or early eighteenth century. In 1928, Vale Royal was acquired by the British Government and became the official residence of the Colonial Secretary, next to the governor, the most important official of the day. It is one of the few remaining houses in Kingston which has a lookout tower on the roof which had allowed owners to keep track of the movement of ships in the harbour.

It is the official residence of the Prime Minister of Jamaica.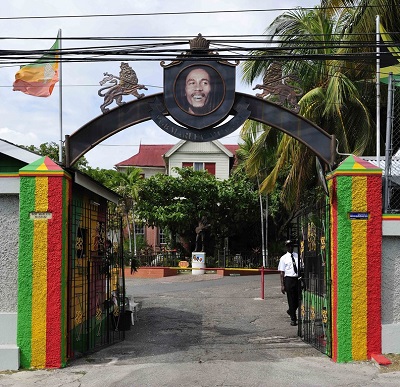 Bob Marley Museum

The Bob Marley Museum is a museum in Kingston, Jamaica, dedicated to the reggae musician Bob Marley. The museum is currently located at 56 Hope Road, Kingston 6, and is Bob Marley's former place of residence. It was home to the Tuff Gong record label which was founded by The Wailers in 1970.
Some Other Important Places Located in St Andrew Jamaica
Modern commercial New Kingston Complex
Sabina Park
The National Stadium
Mico College
Hope Garden
Half Way Tree
Cross Road
Carib Theatre
Saint Andrew Parish Church
Emancipation Park


Mandela Park
May Pen Cemetery
Strawberry Hill
Studio One
Trench Town
New Kingston
The University of the West Indies, Mona Campus
Edna Manley School of the Visual Arts
Temple Hall
New Castle

Some People Associated With The Parish of St. Andrew
Sean Paul

Beenie Man

Buju Banton


Bob Marley (Reggae Legend)


Sizzla


Judy Mowat


Shaggy


Elephant Man
George William Gordon - Jamaican National Hero
Some Towns, Villages and Communities in St Andrew Jamaica

Arnett Gardens
Allman Town
August Town
Barbican
Beverly Hills
Bumper Hall
Bull Bay
Callaloo Bed
Cassia Park
Constant Spring
Cassava Piece
Chancery Heights
Cypress Hall
Denham Town
Duhaney Park
Drew's Land
Elliston Flat
Fletcher's Land
Franklin Town
Golden Spring
Gordon Town
Grant's Pen
Greenwich Town
Guava Gap
Half-Way-Tree
Hannah Town


Harbour View
Havendale
Independence Park
Irish Town
Jacks Hill
Jungle
Jones Town
Kingweston
King Wood
Kencot
Lawrence Tavern
Liguanea
Manning's Hill
Marverly
Meadowbrook
Maxfield Avenue
Mosquito Valley
Mountain View
Mount Salus
Nannyville
New Kingston
New Castle
Norbrook
Olympic Gardens
Payne Lands
Patrick City


Pear Hill
Pembroke Hall
Papine
Queensbury
Red Gal Ring
Rollington Town
Riverton City
Rockfort
Seaview Gardens
Six Miles
Smoky Vale
Stony Hill
Strawberry Hill
Tinson Pen
Tivoli Gardens
Trench Town
Tower Hill
Temple Hall
Unity
Vineyard Town
Waltham Park
Washington Garden
Waterhouse
Warekia Hill
Whitehall
Wilton Garden
Ziadie Gardens
Sources
Jamaica Information Service, St. Andrew. Kingston: Jamaica Information Service, (Parish Profiles), 1991.
Map of Jamaica, 1895
Senior, Olive, Encyclopedia of Jamaican Heritage. St. Andrew,
Jamaica: Twin Guinep Publishers Ltd., 2003
Wikipedia

---
CARE to SHARE???... Share this awesome content with your friends now...
---
If you found this page useful, please feel free to subscribe to my weekly newsletter, The Jamaica Land We Love Digest. 
It gives you information every week about the new information that I have added to the site, including any new developments and great Jamaican stories from Jamaicans and lovers of Jamaica worldwide!


---

Other Great Articles You Might Have Missed
Visitors' Favorite Pages