Robert Nesta Marley (Bob Marley)

The King of Reggae
---
---
---
Wanna share something Jamaican with us? Share Your Submission HERE!!
CARE to SHARE???... Share this awesome content with your friends now...
---
The Hon. Robert Nesta Marley, OM, is regarded as one of the greatest musical legends of our time.
He is internationally known as Bob Marley. He was also hailed by Timothy White in his book "Catch A Fire: The Life of Bob Marley" as the "most charismatic emissary of modern Pan-Africanism."

Bob Marley was born in Nine Miles, St. Ann, on February 6, 1945, to Cedella Malcolm and Captain Norval Marley, who was attached to the British Regiment.

A child of an inter-racial marriage of black and white parents, Marley soon suffered the loss of his father who succumbed to constant pressure from his family regarding the marriage.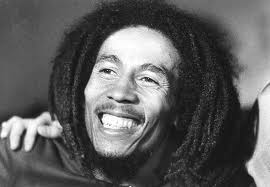 Notwithstanding the separation, the Captain continued to provide financial assistance, though he seldom saw his son.  Marley's mother later migrated to Kingston with her son, in the 1950's, and settled in the inner-city community of Trench Town.

At age sixteen, Bob Marley started his musical sojourn. It was in Trench Town that he formed friendships with Neville Livingston (Bunny Wailer), and subsequently Peter Tosh, whom he met at the famous singer's - Joe Higgs' music class, which he held for aspiring inner-city youth.

Robert Nesta Marley, proclaimed and accepted worldwide as the 'King of Reggae', charted his own course in the music industry with passion and creativity as a song writer, singer and performer. He successfully transcended three Jamaican musical genres from the 1960's through to the early 1980's. These genres include Ska, Rock Steady and Reggae, with Reggae being his most influential musical form.

After almost three decades since his death, his music is still relevant to millions of people across the globe.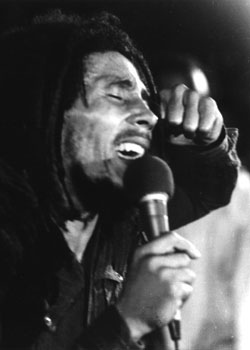 Marley's passion for music could be seen and felt in his performances as he rocked stage, audience and guitar to the very beat of his soul. His philosophy was explicitly expressed in his songs which primarily emphasized love, peace, equality and his spirituality. It was this passion which has served to influence the acceptance of his music by people worldwide, particularly in Europe, North America, Africa and the Caribbean.

Indeed, his commitment to the Rastafarian faith and his views on social issues were the cornerstone of his music. His most popular song, 'One Love', which speaks to his hope for world peace and his position on equality for all races, classes and ethnicities, is depicted on the track 'War'; while 'Rastaman Vibration' and 'Jah Live' reinforced his religious beliefs.

Robert Nesta Marley's contribution to music and to Reggae, in particular, has been internationally and locally recognized. The same song, 'One Love', was voted the best song of the 20th century, while his album 'Exodus' (1977), which stayed on the UK's music chart for 56 consecutive weeks, was voted the greatest album of the Century by the US based, Time Magazine; the most outstanding achievement an artiste could desire!

In 1981, Marley was awarded Jamaica's third highest honour, the Order of Merit, for his outstanding contribution to Jamaican culture. As a mark of the highest respect, he also received an official funeral from the Government of Jamaica, when he died in May 1981. His music has also served to influence the creation of Jamaica's Reggae Month celebrations, which is observed in February each year.

Robert Nesta Marley's Life and Musical Sojourn – Just An Overview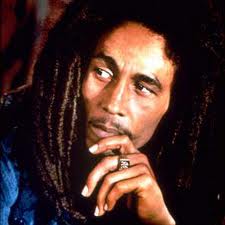 In 1963, Marley, Wailer and Tosh, along with Junior Braithwaite, Beverley Kelso and Cherry Smith, started the group - Wailing Wailers, under the direction of Producer Clement Coxsone Dodd, of the Kingston based, Studio One recording company. Along with other singles, the group produced the hit record "Simmer Down", which stayed on the local music chart for two consecutive months. Shortly after however, Cherry and Braithwaite left the group. The group continued to record, and later released the singles: "I'm Still Waiting", "Rudie", and "One Love".

It was during this period that Robert Nesta Marley met Rita Anderson, whom he married in February of 1966. He later migrated to the USA where he spent eight (8) months. He used this opportunity to earn enough money which he put towards his musical career.

On returning to Jamaica, Marley, Wailer and Tosh were re-established as a group and became known as The Wailers. The group created quite a stir on the musical landscape producing the hit songs: "Small Axe", "Duppy Conqueror", "I Shot the Sheriff", "Get Up Stand Up", "No Woman No Cry", and "Lively up Yourself".

The group's international 'break' was realized in 1971, when it signed a contract with Chris Blackwell, a white Jamaican who owned a recording company in London known as Island Records.

Now under new management, The Wailers released its first album, "Catch a Fire", in 1973, which had hits such as "Concrete Jungle" and "Stir it Up". "Burning" was the final album to be recorded by the trio before they moved on to explore their individual music careers.

The year 1974 was a new beginning for Bob Marley. He now had new talent which comprised his wife Rita, as well as Judy Mowatt and Marcia Griffiths. The group was renamed Bob Marley & the Wailers and became an international musical trademark. In fact, it was during the 1970's that Bob Marley peaked in his career as he released several soul stirring albums namely: "Live", "Natty Dread", "Rastaman Vibration", "Exodus", "Babylon by Bus", "Kaya", and "Survival". The album "Uprising" was released in 1980, while "Confrontation", "Legend" and "Talking Blues" were released after his death.

Robert Nesta Marley's life is the saga of a man who rose from humble beginnings to achieve worldwide greatness. His life and work will no doubt transcend many generations and he will be remembered as one of the world's greatest musical legends.
Get more information about his legacy at the Bob Marley Museum, located in Kingston, Jamaica.
Bob Marley died on May 11, 1981.


Sources:
Bob Marley.com. 2009. Bob Marley Music, Inc; and MLB Advanced Media. < http://web.bobmarley.com/index.jsp>
Chang, Kevin O'Brien and Wayne Chen. Reggae Routes: The Story of Jamaican Music. Jamaica: Ian Randle Publishers, 1998.
Gooden, Lou. Reggae Heritage: Jamaica's Music Culture & Politics. S.l.: Oliver Printery, S.n.
White, Timothy. Catch a Fire: The Life of Bob Marley. London: Omnibus Press, 2000.

---
CARE to SHARE???... Share this awesome content with your friends now...
---
If you found this page useful, please feel free to subscribe to my weekly newsletter, The Jamaica Land We Love Digest. 
It gives you information every week about the new information that I have added to the site, including any new developments and great Jamaican stories from Jamaicans and lovers of Jamaica worldwide!


---

Other Great Articles You Might Have Missed
Visitors' Favorite Pages