Jamaican Ska Music -

Made For Dancing
---
---
---
Wanna share something Jamaican with us? Share Your Submission HERE!!
CARE to SHARE???... Share this awesome content with your friends now...
---
Jamaican Ska music is a genre that originated in Jamaica in and around the late 1950's, and was the precursor to Rocksteady and Reggae. Ska combined elements of Caribbean mento and calypso with American jazz and rhythm and blues. 
The first ever ska recording was made by someone named Count Ossie, who is a Nyabhingi drummer from the Rasta community. It is characterized by a walking bass line accented with rhythms on the upbeat. In the early 1960's,
Ska was the dominant music genre of Jamaica and was popular with British mods. Later it became popular with many skinheads.
Music historians typically divide the history of ska music into three periods or what they referred to as "waves":

1. The original Jamaican scene of the 1960's (First Wave);
2. The English 2 Tone ska revival of the late 1970's (Second Wave) and;
3. The last wave ska movement, which started in the 1980's (Third Wave) and rose to popularity in the US in the 1990's.
The recent revival of Jamaican Jazz attempts to bring back the sound of early Jamaican music artists of the late 1950's.
Ska music was particularly made for dancing.  It stands out because the music is so upbeat, quick and exciting. Musically, it can be characterized with a drumbeat on the 2nd and 4th beats (in 4/4 time) and with the guitar hitting the 2nd, 3rd and 4th beats. Traditional Ska bands generally featured bass, drums, guitars, keyboards, horns with sax, trombone and trumpet being most common.
Without a doubt Ska has set a musical standard for genres that follow it such as Reggae and Rocksteady.

Artistes Who Significantly Contributed To Jamaican Ska Music:
Desmond Dekker
Prince Buster
The Skatalites
Derrick Morgan
Toots and the Maytals
A Bit of Jamaican Ska Musical History
To meet the demand for music, entrepreneurs such as Prince Buster, Coxsone Dodd, and Duke Reid formed sound systems. As the supply of previously unheard tunes in the jump blues and more traditional R&B genre began to dry up in the late 1950's, Jamaican producers began recording their own version of the genres with local artists. These recordings were initially made to be played on "Soft Wax" (a lacquer on metal disc acetate later to become known as a "Dub Plate"), but as demand for them grew eventually some time in the second half of 1959 (Believed by most to be in the last quarter) producers such as Coxsone Dodd and Duke Reid began to issue these recording on 45RPM 7inch discs. At this point the style was a direct copy of the American "Shuffle Blues" style, but with two-three years this had morphed into the more familiar Ska style with the off beat guitar chop that could be heard in some of the more uptempo late 1950's American Rhythm & Blues recordings such as Fats Domino's "Be My Guest" and Barbie Gaye's "My boy Lollipop" (both hugely popular records on Jamaican Sound Systems of the late 1950's). 
One theory about the origin of ska is that Prince Buster created it during the inaugural recording session for his new record label Wild Bells. The session was financed by Duke Reid, who was supposed to get half of the songs to release. The guitar began emphasizing the second and fourth beats in the bar, giving rise to the new sound. The drums were taken from traditional Jamaican drumming and marching styles. To create the ska beat, Prince Buster essentially flipped the R&B shuffle beat, stressing the offbeats with the help of the guitar. Prince Buster has explicitly cited American rhythm & blues as the origin of ska, specifically Willis Jackson's song "Later for the Gator" which was Coxsone Dodd's number one selection and Duke Reid's number-one spin "Hey Hey Mr. Berry", to this day by an unidentified artist and with this given title. The joke amongst surviving Jamaican Sound men who were there at the time being that "This is the one Duke took to the grave with him".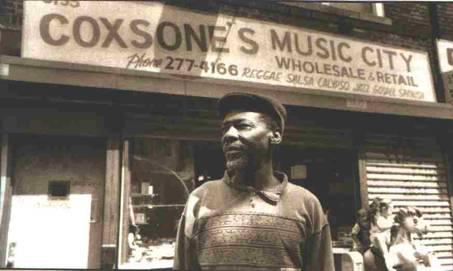 The first ska recordings were created at facilities such as Studio One and WIRL Records in Kingston, Jamaica with producers such as Dodd, Reid, Prince Buster, and Edward Seaga. The Jamaican ska music sound coincided with the celebratory feelings surrounding Jamaica's independence from the UK in 1962; an event commemorated by songs such as Derrick Morgan's "Forward March" and The Skatalites' "Freedom Sound".

Byron Lee & the Dragonaires performed ska with Prince Buster, Eric "Monty" Morris, and Jimmy Cliff at the 1964 New York World's Fair. As music changed in the United States, so did ska. In 1965 and 1966, when American soul music became slower and smoother, ska changed its sound accordingly and evolved into rocksteady. However, rocksteady's heyday was brief, peaking in 1967. By 1968, ska evolved again into reggae.

The mid 1990's saw a considerable rise in ska music's underground popularity, marked by the formation of many ska-based record labels, booking organizations and indie zines. While Moon Ska was still the largest of the United States' ska labels, other notable labels included Jump Up Records of Chicago, which covered the thriving midwest scene, and Steady Beat Recordings of Los Angeles, which covered Southern California's traditional ska revival. Stomp Records of Montreal was Canada's primary producer and distributor of ska music.

So Jamaican Ska Music has been around for years and it has influenced a WHOLE array of musical genres today and it will continue to be heard in some forms around the island and around the world.
Now turn your attention to the next level of Jamaican Music following Ska - Rocksteady...
---
CARE to SHARE???... Share this awesome content with your friends now...
---
If you found this page useful, please feel free to subscribe to my weekly newsletter, The Jamaica Land We Love Digest. 
It gives you information every week about the new information that I have added to the site, including any new developments and great Jamaican stories from Jamaicans and lovers of Jamaica worldwide!


---

Other Great Articles You Might Have Missed
Visitors' Favorite Pages