These Jamaican Beverages are...
Easy To Prepare and Tasty
---
---
---
Wanna share something Jamaican with us? Share Your Submission HERE!!
CARE to SHARE???... Share this awesome content with your friends now...
---
There are a number of Jamaican beverages that you can choose from to prepare depending on your mood, your meal choice or just about any other factor.
These recipes are international recipes but in my view they ALL taste better when made with the Jamaican flare, flavour, and ingredients. You can try them ALL and see if you can prove me wrong.

Now, below I have a list of recipes that I have tried before and I have altered some of them to suit MY taste buds, without losing the essence of the drink. That is just the beauty of recipes, they can be altered to your liking.

Some of these beverages are said to have "special" powers as it relates to assisting with endurance, stamina, energy or just simply putting you in the "mood" to do great things, if you know what I mean.

I have about ten (10) recipes listed that you will be able to see and try FREE of cost (you only have to purchase the ingredients).
You may choose to make one per day, one per week, one per month or even only during special occasions. Whichever way you choose to try them, it really doesn't matter, as long as you try them ALL at some point in time throughout your lifetime because they are ALL easy to follow and the end result is tasty.

So without further delay, let me introduce you to some of MY favourite Jamaican-originated beverages...

Great-Tasting Jamaican Beverages

Now go forth and create these recipes to your own liking AFTER you have tried them just as they are presented here!! Give your taste buds a THRILL!!

Have fun!
Please share the recipes with your family and friends and leave a comment when you have tried any of them.

Enjoy these great tasting recipes and if you need more recipes in one place be sure to sign up to my newsletter below and get a FREE copy of my e-book...
"Jamaican Dishes Made Easy"

FREE E-Book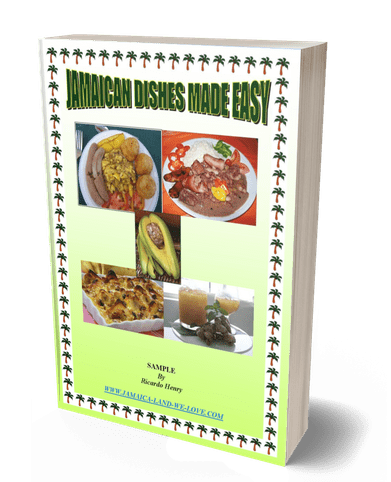 Get a Copy of My FREE E-Book when you sign up for the
JAMAICA LAND WE LOVE Newsletter ...

SUBCRIBE HERE for latest updates
---
CARE to SHARE???... Share this awesome content with your friends now...
---
If you found this page useful, please feel free to subscribe to my weekly newsletter, The Jamaica Land We Love Digest. 
It gives you information every week about the new information that I have added to the site, including any new developments and great Jamaican stories from Jamaicans and lovers of Jamaica worldwide!


---

Other Great Articles You Might Have Missed
Visitors' Favorite Pages