St Mary Jamaica -

The Fifth Smallest Parish
---
---
---
Wanna share something Jamaican with us? Share Your Submission HERE!!
CARE to SHARE???... Share this awesome content with your friends now...
---
St Mary Jamaica is the fifth smallest parish measuring approximately 610 square km.

Its capital city is Port Maria and other major towns found in the parish are Highgate, Oracabessa, Richmond and Annotto Bay. It is found in the county of Middlesex. The population in 2001 was 111,266.

The town of Rio Nuevo has historical significance for being the site of the last battle between the invading English and the defending Spaniards who finally had to flee to Cuba. After the English capture, the area around the town of Puerto Santa Maria became known as St. Mary, and the town itself as Port Maria.

When the three counties were created in 1758 (Cornwall, Middlesex and Surrey), St. Mary was placed in Middlesex. St. Mary lost some of its acreage in the year 1841 when the parish of Metcalfe was created out of the parishes of St. Mary and St. George, but her borders were again extended when in 1867 the number of parishes was reduced and Metcalfe was merged with St. Mary.

In 1760 the most serious rebellion in Jamaica's history broke out around Port Maria, eventually spreading to almost the entire island. The leader of this rebellion was a Coromanti slave called Tacky, who belonged to the frontier estate. Fort Haldane, now Grays Charity, was seized and ammunition taken. In 1765 there was another Negro revolt in St. Mary, again led by the Coromanti; however this uprising was quickly suppressed.

After emancipation, free villages were formed in St Mary Jamaica as elsewhere but the parish still basically remained one of the big estates. At the beginning of the 19th century there were 63 sugar factories in the parish but by the end of the century only three existed. With the decline of sugar, banana cultivation took its place. In order to get this perishable fruit quickly from the field to the final market, many small sea coast towns and bays were used as ports of call for ships carrying out the trade. As early as 1887, bananas were being shipped from Port Maria, Annotto Bay and Oracabessa. Later Rio Nuevo and Frankfurt also became shipping ports.

Main Towns Located In St Mary Jamaica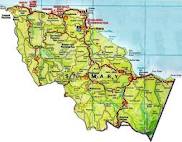 The three largest towns in this parish are Port Maria, Oracabessa, and Annotto Bay.

Port Maria

Port Maria, Jamaica is the capital town of St Mary Jamaica. It is located on the coast of the island and the town has a good harbour in which lies Cabritta Isle. As the parish capital, the principal public buildings are found here.

Oracabessa

Oracabessa, a farming town, is located west of Port Maria on the main road leading to the neighbouring parish of St. Ann. The name Oracabessa is thought to have been derived from the Spanish 'oro de cabeza' meaning Golden Head.

Annotto Bay

Annotto Bay is sea coast town on the western side of the mouth of the Wag Water River, one of St. Mary's many rivers. In its heyday Annotto Bay boasted a rich sugar estate, Gray's Inn, but this factory no longer functions since banana has replaced sugar as the main crop.

Monuments and Historic Buildings Found In St Mary Jamaica
Agualta Vale Great House

Aqualta Vale was first owned by a man named Thomas Hibbert, who was from Manchester England. He lived between the years 1710-1780. After this it became the property of John Pringle, a Scottish doctor who was the District Medical Officer for St. Mary at the time.

Monument to Tacky

A monument to the slave Tacky stands in the Claude Stuart Park at Port Maria.

Annotto Bay Baptist Church

Located on the main street in Annotto Bay, this is one of the most interesting structures in the town. It was originally built in 1823 and the structure suffered damage in the slave uprisings of 1831 to 1832 and in 1880 a storm took further toll on the building in 1894 that is had to be rebuilt. In 1962, extensive repairs were carried out on this building and it was declared an historic monument by the Jamaica National Commission.

A List Of Some Famous Jamaicans Born In St. Mary Jamaica
The list of prominent people that can be found to be associated with this parish is so huge. Below is a list of some of them in no particular order:

Admiral Tibet - dancehall singer and recording artist

Esther Anderson - filmmaker, actress

Aleen Bailey - Olympic gold-medal winner

Chris Blackwell - award-winning music producer

Ruth Bryan Owen - U.S. Ambassador

Capleton - reggae and dancehall artist

Noël Coward - award-winning playwright

Stephen DeRoux - professional soccer player (Montreal Impact)

Clancy Eccles - ska and reggae singer

Andy Hamilton - jazz saxophonist and composer

Beres Hammond - reggae singer

Lisa Hanna - Member of Parliament, Minister of Youth and Culture, Miss Jamaica World 1993, Miss World 1993


Ini Kamoze - reggae singer

Kiddus I - reggae singer

Lady Saw - Grammy-award winning DJ and reggae singer

Audrey Marks - Jamaica Ambassador to the U.S.A.

Beverly McDonald - Olympic gold-medal winner

Count Prince Miller - actor and musician

Ninjaman - dancehall DJ

Pan Head - ragga-dancehall DJ

Georgianna Robertson - fashion model and actress

Colin Simpson - bestselling author and musician

Tanya Stephens - reggae singer

Richard Von White - internationally renowned artist

Josey Wales - dancehall DJ

Perry Henzell - movie director
This list of popular and prominent citizens of Jamaica is by no means complete. It was just to highlight some of the GREAT ones who were born in the parish of St Mary Jamaica.

I hope you got some great info about St. Mary Jamaica and that you will visit some of the monuments and landmarks to learn a lot more about this great parish.


Sources
Jamaica Information Service, St. Mary. Kingston: Jamaica Information Service, (Parish Profiles), 1991.
Map of Jamaica, 1895
Senior, Olive, Encyclopedia of Jamaican Heritage. St. Andrew, Jamaica: Twin Guinep Publishers Ltd., 2003
Wikipedia.org


---
CARE to SHARE???... Share this awesome content with your friends now...
---
If you found this page useful, please feel free to subscribe to my weekly newsletter, The Jamaica Land We Love Digest. 
It gives you information every week about the new information that I have added to the site, including any new developments and great Jamaican stories from Jamaicans and lovers of Jamaica worldwide!


---

Other Great Articles You Might Have Missed
Visitors' Favorite Pages