Jamaican Breads and Cakes

For The Sweet Tooth
---
---
---
Wanna share something Jamaican with us? Share Your Submission HERE!!
CARE to SHARE???... Share this awesome content with your friends now...
---
Jamaican breads and cakes are easy to make, delectable, and can be made any time of the year.
There is no one season made specifically for creating these simple Jamaican treats. However, there are times of the year such as Christmas and Easter, for example, that most persons find it the best times to make the items for those seasons.

For Easter, the traditional Easter bun is made by a number of households and at Christmas the famous Jamaican Christmas cake or Christmas Pudding are made.

But as I said, the ingredients for any of these easy to make Jamaican breads and Jamaican cakes can always be found and as such, you do not really have to wait on a season to create your masterpieces.

So if you want to make the best Easter buns in time for the Easter season, why not practice making these buns using the recipe during the year so by the time Easter gets here you would have mastered the art?

These recipes have been tried, tweaked and proven by me and my wife, who has a degree in Food Service Production and Management. I don't have a degree but I LOVE cooking and baking.

However, there are a few of these recipes that we have not fully experimented with but we will still share them for your trying pleasure.

You also have the freedom to alter, tweak, add, or delete anything from these recipes to give them your signature touch.

So go forth and have fun preparing and making these delicious Jamaican breads and cakes.

To get things started, I have included just a few of these recipes and as time goes by, other recipes will be added.

Try these recipes for yourselves and share your views with us.

Just click on any of the links and you will be taken to the respective page with the recipe and a little info on each item.
Let's bake!!!

Enjoy these great tasting recipes and if you need more recipes in one place be sure to sign up to my newsletter below and get a FREE copy of my e-book...
"Jamaican Dishes Made Easy"

FREE E-Book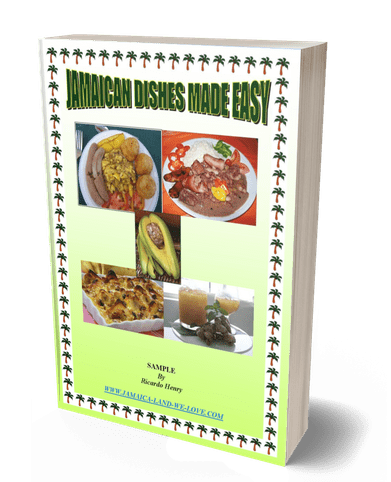 Get a Copy of My FREE E-Book when you sign up for the
JAMAICA LAND WE LOVE Newsletter ...

SUBCRIBE HERE for latest updates
Top of Jamaican Breads and Cakes
---
CARE to SHARE???... Share this awesome content with your friends now...
---
If you found this page useful, please feel free to subscribe to my weekly newsletter, The Jamaica Land We Love Digest. 
It gives you information every week about the new information that I have added to the site, including any new developments and great Jamaican stories from Jamaicans and lovers of Jamaica worldwide!


---

Other Great Articles You Might Have Missed
Visitors' Favorite Pages