Jamaican Bread Pudding Recipe

Flavourfully Tasty!
---
---
---
Wanna share something Jamaican with us? Share Your Submission HERE!!
CARE to SHARE???... Share this awesome content with your friends now...
---
This Jamaican bread pudding recipe is easy to follow and it will yield you a great tasting Jamaican bread pudding.
Remember when your mother or grandmother used to use the excess bread to make Bread Pudding? That is the basis of what makes the pudding so tasty, the fact that you do not use fresh bread to make it.

It has to be day-old bread or even older. The older the bread, the better this bread pudding will taste, guaranteed!!

It is a favourite for those with a sweet tooth and is enjoyed by Jamaican citizens living here as well as Jamaicans worldwide who likes to take a piece of Jamaica with them wherever they go.

So go ahead and enjoy using this bread pudding recipe to satisfy that craving or sweet tooth.

Jamaican Bread Pudding Recipe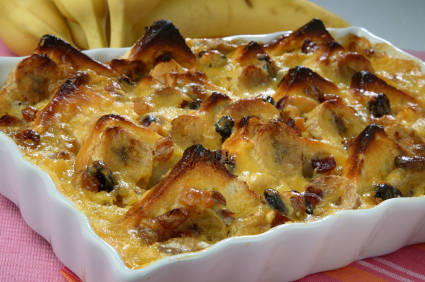 INGREDIENTS
1   lb day-old white bread (preferable hardo bread)

1/4 cup melted butter

5   eggs (beaten well)

4   cups whole milk

1/2 cup sugar

3/4 tsp ground cinnamon

1/4 tsp ground nutmeg

1/4 cup rum

1/3 cup raisins

1/2 cup sweetened condensed milk

METHOD
1. Preheat oven to 350 degrees F.

2. Grease a 9-inch square baking dish with butter and line the dish with wax paper.

3. Remove the crust from the bread.

4. Break up the bread into small portions.

5. Combine the bread, sugar, cinnamon, nutmeg, rum, raisins, and melted butter in a mixing bowl.

6. Pour into the baking dish.

7. Mix the condensed milk, eggs and whole milk.

8. Pour this mixture over the bread mixture in the baking dish.

9. Place in the oven and bake for 1 hour and 15 minutes.

10.You can test if it is baked by inserting a small knife in the middle until it comes out clean.

Serve warm or cool. Best served with Ice cream or whipped cream.

This Jamaica Bread Pudding Recipe makes 6 to 8 servings.

ENJOY!!!
Top of Jamaican Bread Pudding Recipe
Back To Jamaican Breads and Cakes
---
CARE to SHARE???... Share this awesome content with your friends now...
---
If you found this page useful, please feel free to subscribe to my weekly newsletter, The Jamaica Land We Love Digest. 
It gives you information every week about the new information that I have added to the site, including any new developments and great Jamaican stories from Jamaicans and lovers of Jamaica worldwide!


---

Other Great Articles You Might Have Missed
Visitors' Favorite Pages