REAL Jamaican Ginger Beer Recipe

This Jamaican ginger beer recipe is EASY to follow and the end result is refreshing and tasty.
For years Jamaicans have loved the great taste of ginger in most beverages that they decided to just make the juice directly from the root of the ginger.

Herbalists have used the root of the ginger plant to relieve stomach troubles. With its natural anti-inflammatory effects, ginger is also a common remedy for inflammation-related health problems like rheumatoid arthritis.

Ginger has a LOT of health benefits. A number of studies have supported ginger's stomach-soothing effects. In addition to easing post-surgery nausea and vomiting, the herb appears to reduce motion sickness and morning sickness.
Ginger beer is traditionally potent and sweet and the flavour intensity increases with age, that means the longer it is stored, the stronger it gets.

Get to work trying to make this traditional Jamaican Ginger Beer, it will be a hit when served at any event or to just even your immediate family members and friends.

Jamaican Ginger Beer Recipe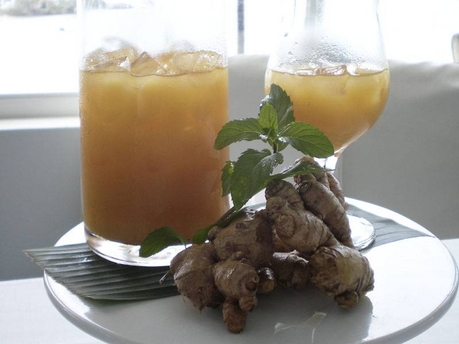 INGREDIENTS:
1 pound ginger

8 tablespoons of brown sugar

2 1/2 quart water

3 oz Lime Juice

METHOD:
1. Wash the ginger root thoroughly to remove ALL dirt and sediments that may be stuck on the outer portion of the skin.

2. Grate ginger or grind in blender.

3. Bring the water to a boil and pour it on the grated ginger and let it sit for a day (24 hours).
 
4. Strain the mixture through a sieve in a mixing bowl.

5. Add sugar & mix (add more or less sugar based on your taste)

Best served with crushed ice.
Serves 6-8.

Try this Jamaican Ginger Beer today and have yourself a refreshing drink. quick and easy to complete!

Top of Jamaican Ginger Beer Recipe

Visitors' Favourite Pages