Frenchmans Cove -

An Exotic Secluded Beach
---
---
---
Wanna share something Jamaican with us? Share Your Submission HERE!!
CARE to SHARE???... Share this awesome content with your friends now...
---
Frenchmans Cove -

Port Antonio, Portland, on Jamaica's eastern coast, is snugly located between the Blue Mountains and the Caribbean Sea.

The area is still, thankfully considered relatively virgin territory and Frenchman's Cove is a perfectly secluded spot that will make you fall in love with the water instantly.
Frenchman's Cove was built by a man named Garfield Weston.
He was a billionaire whose business empire included Fortnum and Mason.
The resort was run as a "no expenses spares" VIP destination and used to be one of the most exclusive (and, indeed, expensive) resorts in the whole world.
One of the most beautiful beaches in the Caribbean, let alone Jamaica, this white-sanded shore, set against a magnificent backdrop of exotic tropical gardens and crystal-clear mountain streams, is so idyllic.
It's no wonder it was featured in the major motion pictures Club Paradise and Treasure Island.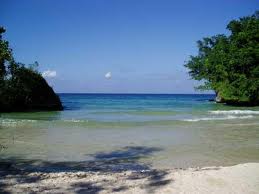 Just amazingly stunning!


Frenchman's Cove is tucked between two rocky bluffs and consists of a lagoon which meanders around a bar of sand from one direction while the sea barrels in from the other, pinched between two tiny headlands that are overhung with greenery. This gives the beach a luminous green light.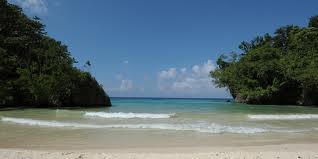 Visitors pay a small fee for entry but it is well worth it. You enter through some lush gardens, which then opens up into a gorgeous little secluded beach cove. It also has a fresh water river flowing into the beach.

Lots of fish in the river, as well as a rope and swing for the kids to play with. There is also a jerk hut on the beach with drinks and food made and done to order, as well very clean bathrooms.

To come to Jamaica or LIVE in Jamaica and not ever visit Frenchman's Cove would be like going to the movie theater to only buy popcorn instead of watching a movie. It just makes no sense!

So the next time you are planning a trip to Jamaica or even a beach trip in Jamaica, be sure to check out Frenchmans Cove, I promise you, you will LOVE it.
Here is a video clip of the beach, enjoy.

---
CARE to SHARE???... Share this awesome content with your friends now...
---
If you found this page useful, please feel free to subscribe to my weekly newsletter, The Jamaica Land We Love Digest. 
It gives you information every week about the new information that I have added to the site, including any new developments and great Jamaican stories from Jamaicans and lovers of Jamaica worldwide!


---

Other Great Articles You Might Have Missed
Visitors' Favorite Pages