Winnifred Beach -

One Of Jamaica's Most Appealing Beaches
---
---
---
Wanna share something Jamaican with us? Share Your Submission HERE!!
CARE to SHARE???... Share this awesome content with your friends now...
---
Winnifred Beach is located between the Blue Lagoon and Boston Bay on the East coast of Portland Jamaica.

It is just a mile away from the closed beach where Tom Cruise once juggled his bottles in Cocktail.
This beach is one of the most appealing beaches in all of Jamaica.
This beach, like many others in Portland, has streams running into the sea and good swimming.
Winnifred Beach is found in the Fairy Hill community in Portland on the island's lesser traveled east coast.
This beach is home to a delightful reef just offshore that is not only perfect for snorkeling, but for its clear, calm, bright-blue water justly popular with locals.
This beach is one of the last remaining FREE public beaches in Jamaica. The beach is well known and has been used for generations by the immediate local community as well as by Jamaican citizens and  international tourists who come there to spend a leisurely day at sea.
A long, unpaved road leads to the wide, white-sand beach that stretches along a sheltered bay. Thick groups of trees and vines act as a backdrop to the aquamarine water filling the foreground.
It is, however, possible to reach down to the beach without an SUV or a 4-wheel drive vehicle. The best way to find your way down there though is to ask locals which road to take then follow it all the way down to the beach.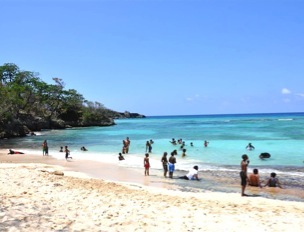 At the base of the hill, large trees shade a flat strip of land, where several food and drink vendors prepare fresh fish dishes and Jamaican jerk delights, which is a specialty of Portland.

There is also a mini-field, perfect for a game of football, and on weekends, there are horseback riding tours down the beach and boat trips to nearby Monkey Island.
Come to this beach for a real authentic Jamaican public beach experience. Some say that you are not a Jamaican until you have visited here! Visit the beach on the weekend and you may be lucky enough to join Jamaicans swimming, playing cricket or just relaxing. Weekdays, however, are much quiter quieter and you may even have the luxury of having the whole beach to yourself.

So be sure to take the time out to visit Winnifred Beach whenever you are on the East cost, Portland. You will enjoy the privacy and the calmness of the water and surroundings.

---
CARE to SHARE???... Share this awesome content with your friends now...
---
If you found this page useful, please feel free to subscribe to my weekly newsletter, The Jamaica Land We Love Digest. 
It gives you information every week about the new information that I have added to the site, including any new developments and great Jamaican stories from Jamaicans and lovers of Jamaica worldwide!


---

Other Great Articles You Might Have Missed
Visitors' Favorite Pages