Paul Bogle -

National Hero of Jamaica
---
---
---
Wanna share something Jamaican with us? Share Your Submission HERE!!
CARE to SHARE???... Share this awesome content with your friends now...
---
It is believed that Paul Bogle was born free in an estimated period of between the years 1815 and 1822 in Stony Gut, St. Thomas, a few miles from Morant Bay.

He was a Jamaican Baptist deacon and he owned about 500 acres of land because Stony Gut was made up of small farmers.
He was good friends with another one of Jamaica's National Heroes, George William Gordon.
Gordon at the time was a big politician and land owner himself, and he assisted Bogle to get his Deacon status.

Bogle was said to be born in a time when slavery was being abolished, which was 1834.
However, the white population was still in control.
This was evident in the fact that though black people were eligible to vote, most of them still could not afford to because they had to have the basic reading and writing ability and some money, because the cost of voting was so pricey...
... yes, they had to pay to vote back in those days!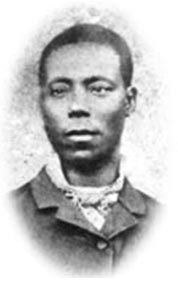 Bogle was one of those eligible voters who were among the limited 104 voters in the parish of St. Thomas.

A Brief History on Bogle's Heroic Stint
It started in the year 1865, on October 7th, when there was an alleged trespassing case resulting in a black man being captured and found guilty.

The black residents of Stony Gut went into protest and got the man freed by force. It was later noted that about 27 of these men from the village had warrants out for their arrests for offenses such as assaulting the police and rioting.

Following that event and news, Paul Bogle lead a group of about 280 black men and women into Morant Bay Town on October 11, 1865. It was due to conditions such as poverty and injustice in the society as well as the lack of public confidence in the central authority that this protest was happening.

This move was what was dubbed the "Morant Bay Rebellion."

They marched right up to the court house to make their voices heard with regards to the arrest warrants. They were greeted by a force of military personnel who opened fire panicly in the crowd killing about seven (7) of the protesters.

Then the only thing that could happen did, that move ignited a fire in the bloods of the rioters and so things got out of hand resulting in another 18 or so persons being killed.
The crowd threw stones and set the courthouse and other buildings on fire. Some of the officials who ran out of the burning buildings to try and save themselves ended up being mobbed and killed by the massive crowd. So what begun as a protest turned out to be a rebellion and the town was then under control by about 2,000 rebels. As expected, there were more deaths in the upcoming days.

The result of the riot:
439 black Jamaicans were killed
354 arrested and executed later on
and another 600 punishments were carried out, including sentences and flogging.

Mr Paul Bogle himself was one of those who were arrested and later executed.
He was hanged on October 24, 1865.

Due to his close ties with politician George Gordon, Mr. Gordon was also arrested in Kingston, was tried and later hanged in October. Now George was not a part of the rebellion but he got convicted anyway.

His efforts did not go unnoticed because it paved to way for courts to practice just judgement as well as an attitude change in public officials. That is why he was named a National Hero of Jamaica in 1969 and as a result his head placed on the $2 Jamaican note in the same year.
The note was however phased out in the year 1989. After the phasing out of the $2 note, his head was chosen again to be on the Jamaican 10cents coin which has been in circulation since 1991.
Back To National Heroes of Jamaica
---
CARE to SHARE???... Share this awesome content with your friends now...
---
If you found this page useful, please feel free to subscribe to my weekly newsletter, The Jamaica Land We Love Digest. 
It gives you information every week about the new information that I have added to the site, including any new developments and great Jamaican stories from Jamaicans and lovers of Jamaica worldwide!


---

Other Great Articles You Might Have Missed
Visitors' Favorite Pages