The Order of Jamaica -

Who Wears It and Why!
---
---
---
Wanna share something Jamaican with us? Share Your Submission HERE!!
CARE to SHARE???... Share this awesome content with your friends now...
---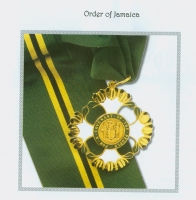 The honour of the Order of Jamaica may be bestowed on any Jamaican national or any distinguished citizen of a foreign country other than Jamaica, who has demonstrated outstanding distinction in service to Jamaica.

Members of the Order are entitled to be formally styled 'The Honourable', wear the insignia of the Order and use the post nominal letters 'OJ'.

Foreign nationals receiving the award are honorary members and use the post nominal letters 'OJ (Hon)'.

So far, the youngest member to receive this award is Ambassador the Hon. Usain Bolt. He was awarded at age 23 for his outstanding performance in the field of athletics at the international level.
Description of The Insignia
The insignia of the Order is made in gold and consists of a white enamel collar badge, the ends of which represent the ackee fruit and leaves, suspended from a deep green silk 'riband'.
The center shows the heraldic Coat of Arms of Jamaica against a gold background.

This is surrounded by the gold lettered motto of the Order...
'For a Covenant of the People'
...on the green enamel.

Persons Who Have Received This Award So Far
Recipients of this National Order since its inception include:

| | | | | |
| --- | --- | --- | --- | --- |
| The Honourable Lascelles Chin | The Honourable Dr. Carmen Lois Stewart | The Honourable Lloyd Barnett | The Honourable Harry Belafonte | The Reverend and Honourable Herro Blair |
| | | | | |
| --- | --- | --- | --- | --- |
| The Honourable Wycliffe Bennett (post humously) | The Honourable Oliver Clarke | The Reverend and Honourable Father Richard Ho Lung | The Honourable Peter Abrahams | Ambassador The Honourable Usain Bolt |
Source: Directory of the Orders of the Jamaican Societies of Honour
Jamaica Information Service
Remember, persons granted the privilege of being awarded with the Order of Jamaica is to be called 'The Honourable'.
So next time you hear anybody being referred to as The Honourable, you will know that they have been awarded with this Jamaican order.

Back To Jamaican Awards and Honours
---
CARE to SHARE???... Share this awesome content with your friends now...
---
If you found this page useful, please feel free to subscribe to my weekly newsletter, The Jamaica Land We Love Digest. 
It gives you information every week about the new information that I have added to the site, including any new developments and great Jamaican stories from Jamaicans and lovers of Jamaica worldwide!


---

Other Great Articles You Might Have Missed
Visitors' Favorite Pages